FIBALON®compact pro deluxe ***** –SUITABLE FOR SPAS, JACUZZIS AND WHIRLPOOLS


THE UNIQUE, HYGIENIC AND MODERN WAY OF FILTRATION
The FIBALON®compact pro deluxe also has the worldwide unique dynamic fiber fixation "DyFix®", which guarantees an incomparable fi ltration performance and a high dirt absorption capacity. This results in less service and cleaning effort. FIBALON®filter materials are always made of recycled materials to protect the environment.
FIBALON®compact pro deluxe has an antibacterial effect for the fibers and guarantees a long service life. Moreover, it is easy to clean to reuse the innovative FIBALON®compact pro deluxe.
FIBALON®compact pro deluxe has a selectivity of 8 micrometers without clogging the fi lter unit. You can therefore always heat your spa. The water in your whirlpool will be optimally disinfected without limitations in water circulation.
UNIVERSAL FILTER FOR SPAS, JACUZZIS UND WHIRLPOOLS
FIBALON®compact pro deluxe is THE universal filter solution "Made in Germany" for your whirlpool, Jacuzzi or spa. The selected spherical shape, the special packaging size and the specially developed protective grid made of V4A stainless steel, enable a universal use with unique filter performance in the proven FIBALON®way. The curvature of the grid ensures a full faced fl ow through the filter media bed and guarantees best cleaning results.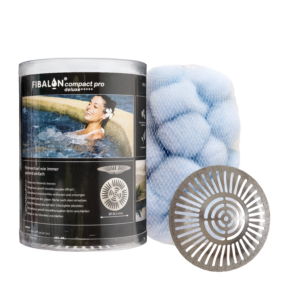 Special curvature for an optimized arrangement of the FIBALON®-filter material
(height: 20mm/0,79 inch)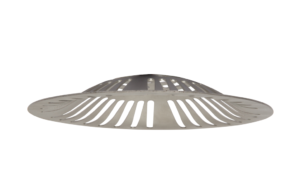 For optimized flow and filter results
(Ø136,5 mm/ 5,37 inch)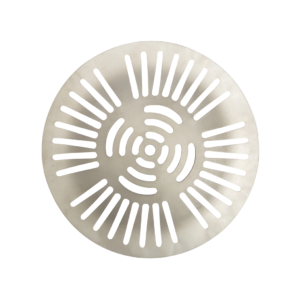 » Manufacturer-independent thanks to protective grid
» Universal adaptable to size and shape of filter container
» Easy to clean
» Hygienic and modern filtration
» Protective grid made of stainless steel V4A
» New lattice curvature for full-surface flow
» Optimized package size for outstanding filtration results
» Unique filter performance
» Environmentally friendly
» Long service life
CHANGE THE FILTER AS ALWAYS EASY